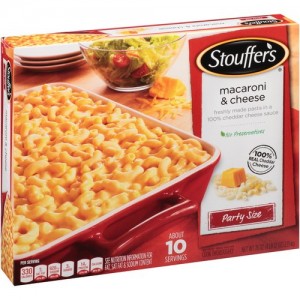 By America, I mean me.
Hidden away in the mothball scented epizzy kitchens of this world one will find huge stores of Stouffer's Mac + Cheese. Stouffer's may be a mass market frozen food but it is as epizzy as hangovers, itchy sweaters and baby blue Dodge Aries wagons.
Memories.
Stouffer's Macaroni & Cheese Preparation
I am thoroughly against excessive ornamentation and therefore I usually follow the recipe on the box. I will modify it for a slightly shorter cooking time because I believe it makes the cheese more flavorful and gives it a better mouth feel. On occasion, I will add chopped up hotdog or sausage but prefer to maintain the purity of the Stouffer's product.  A high quality italian sausage though can bring the macaroni and cheese to the next culinary level if you are attempting to impress.
I sometimes pair my Stouffer's with a high quality NV pepsi product or a nice glass of Perrier-Jouët. As this is a comfort food what you drink with your macaroni and cheese is really up to you.
Update: It comes in party size. I may die.